Thousands of new users: CHERRISK gains ground in Germany!
In less than 3 weeks CHERRISK GO acquired more than 3115 users in Germany. Even better, our data shows that as the app gets more popular, the number of new downloads will far outpace a steady, linear growth. While we're just at the beginning of our path, we're happy to see that we can motivate people to live a safer and healthier life in Germany too!
Entering a new market is never easy. The language, the habits, the culture is all different. That's why a healthy amount of butterflies still fluttered in our stomachs when we hit the imaginary "launch" button, even though we planned CHERRISK model's German market entry meticulously. After seeing the first very positive feedbacks, this excitement is slowly becoming pure happiness.
Germany loves CHERRISK GO too!
Long before we introduced ourselves to Germany we knew that CHERRISK GO must be an important part of our strategy. The purpose of this application is to help users to live a safer and healthier life, and that's important everywhere in the world. That's why it's great to see that 🍒 GO acquired more than 1000 users in two weeks, and had more than 3000 users in just three weeks. Hitting 100 registrations per day on average with a brand that had no history in a country is no small feat.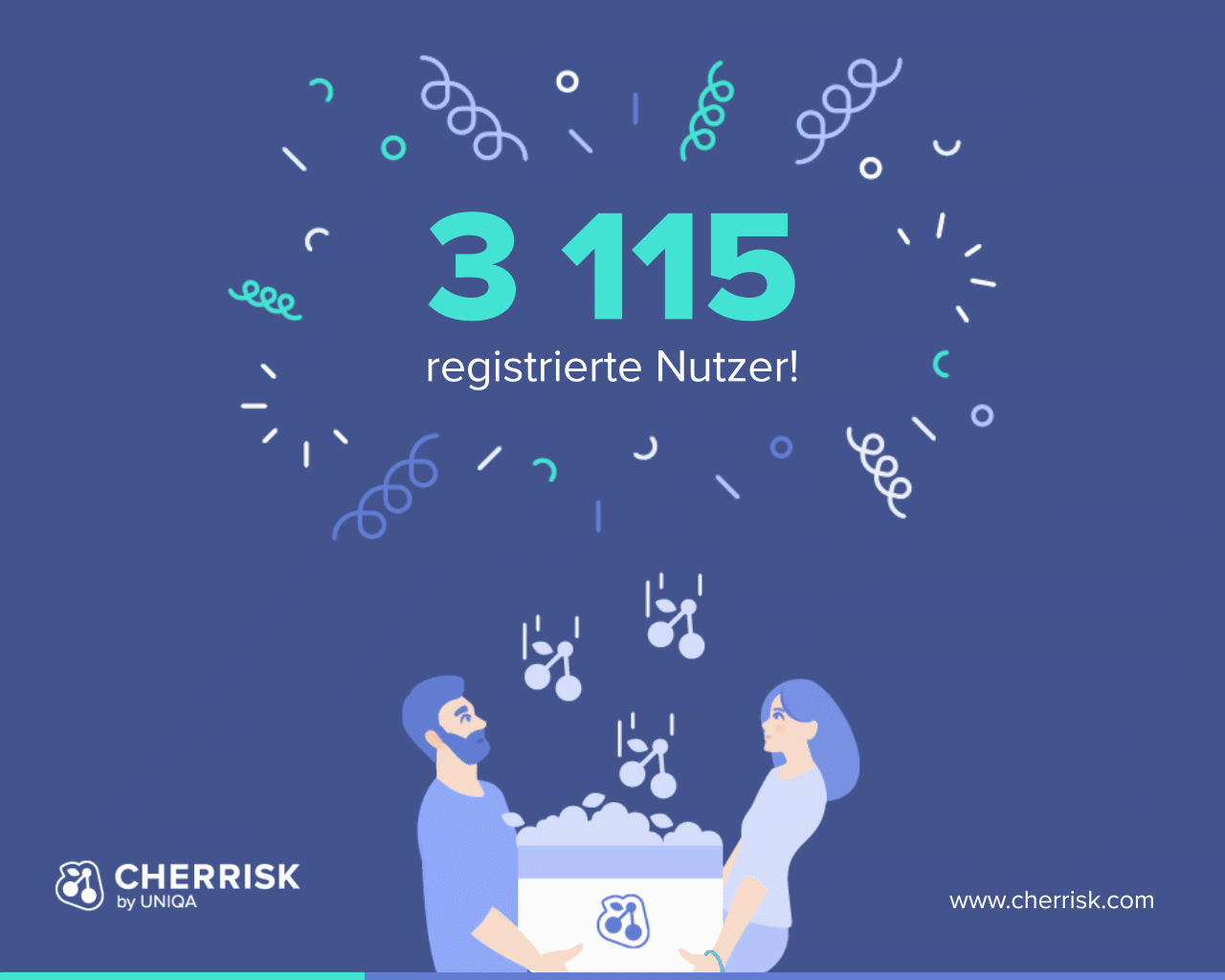 To look at it a bit differently: every week we make more and more (German) people move a bit more with our awesome goodies. Just like the Hungarian goodie store, its German counterpart has some high value gadgets, discounts and supportable charity vouchers. At the moment Germany has three causes that can be supported:
TiMMi ToHelp e. V.'s programme aims to help homeless people,
Ein Herz für Rentner e. V.'s cause is about helping the elderly (similar to a cause we've already supported in Hungary),
#Kochenfürhelden's campaign helps the heroes of Coronavirus (like doctors and nurses) by supporting them in their everyday lives and tasks with warm meals during their busy days.

The best of all is that with CHERRISK GO our users only have to walk, run, bike or drive without using their phones to help these great causes. (Of course, the number of goodies found in our store will constantly grow.)
German users are now part of something bigger
While we're still young in Germany, we already have some great results in Hungary. In less than two years the CHERRISK ecosystem acquired 150 thousand users. 🍒 GO alone has 80 thousand downloads so far in Hungary alone.
Although it's not mentioned in the infographic above, one of our dearest achievement is that we were able to support charities with 12 million forints (33 thousand euros) by June 2020.
This is just the beginning
Our international expansion was preceded by years of planning and constant prototyping. First we've tested our UX prototype in great secret. Afterwards we had to try out our sales prototype. That was the Hungarian pilot of CHERRISK. In Germany we're in the phase of testing the scale prototype: we have to validate our cross-border operation. (If you're interested, you can read more about this here.) Our experience of the German market is great so far and our expectations are even higher than before.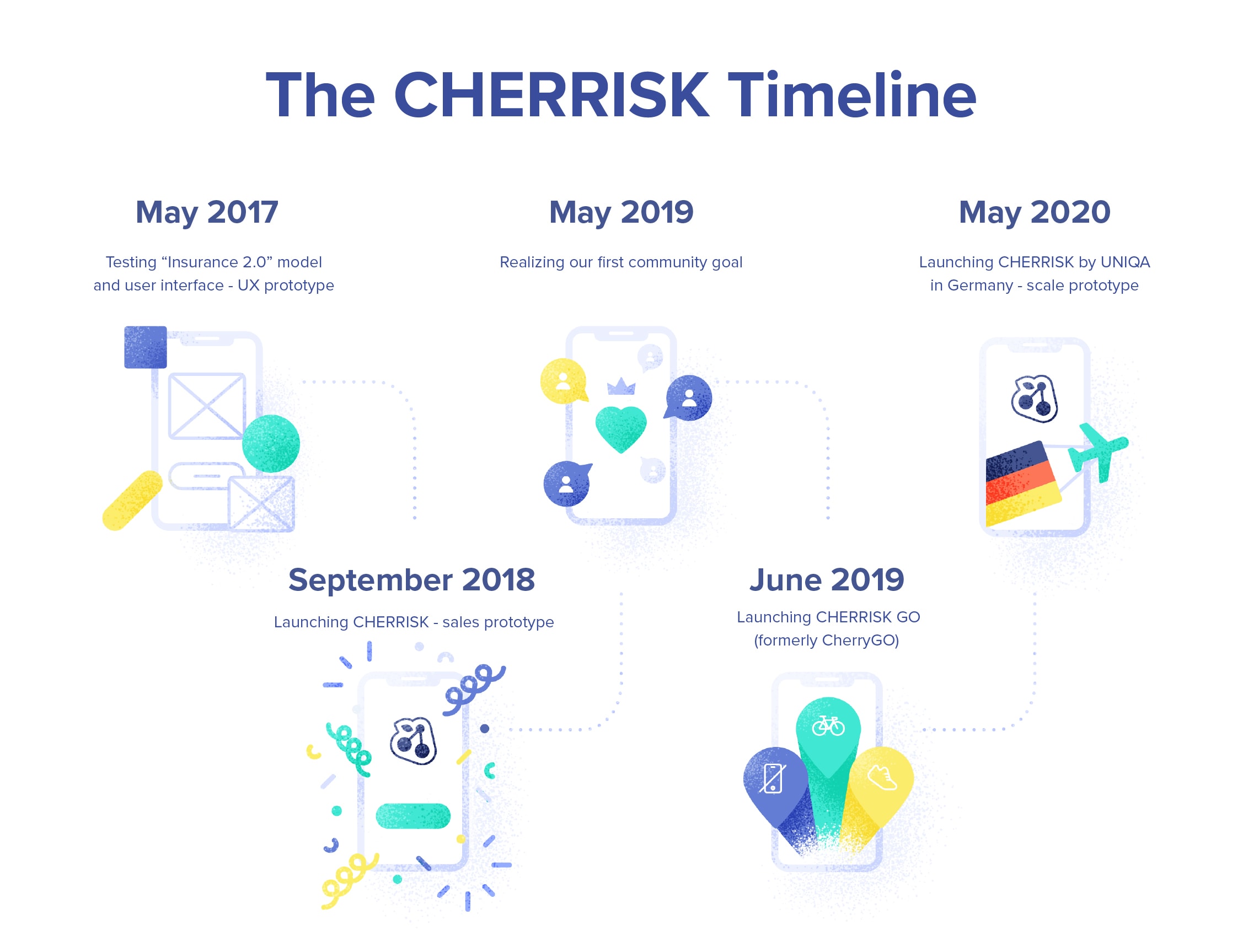 As a closing thought: the timeline above may show you how we got here, but it has one serious flaw. It ends in May 2020, but our international expansion is not the end. On the contrary: CHERRISK's true journey starts right now!
###
Updated on 29 June 2020.